Playing with Lego bricks is fun
But what else can you do with them?
How about a Lego brick habit tracker?
10 Unique ways to use Lego Bricks for Productivity
Playing with Legos is fun, but there's so much more you can do with these fun toys.
I have been using Lego bricks to track my everyday writing, and workouts for some time now.
Based on my experience with these, I'm now writing a guide on 10 Unique ways to use Lego Bricks for Productivity
What the guide includes
Ten projects/ideas on how you can use Lego bricks to track a variety of everyday things.
Step-by-step guide to build each of these projects/ideas on your own
Instructions, and tips to build and use the Lego 30-Day Pushup Tracker
Complete list of recommended parts for each of the projects, and information on where to get them.
Tips and tricks I have learned on how to get the most out of your Lego tracker.
How it all began
Make habit tracking fun
Hey everyone!
My name is Amit, and I have probably tried every habit tracking app worth its salt.
All of these apps have the same trajectory. I start excited, and then I lose track of them after a few days/weeks. That's not a ding on these specific apps. That's just the nature of digital vs physical.
The problem with using apps
There's an inherent friction to using apps and websites to track your habits and goals. You need to reach out for your phone. Open the app. Tap on the habit. Mark it as completed. That's a lot of work. And it takes you away from the physical thing you're trying to accomplish
You can't really "see" your progress, once you close the app. It's hidden inside an app on your phone. It's not visible to you as you go about your day. To derive satisfaction from your hard work, you need to pull out the phone and find the app again.
Screens are distracting. Each time you pick up your phone, you run the risk of getting distracted by a notification, or the "red badge" begging for your attention. Twenty mins later, and you're still watching cat videos.
We can do better.
We need more tools in our lives that take us away from the screens. Tools that are a bit more physical, fun, and exciting. We need something we can actually touch and feel.
Screens and apps are the opposite of that. To paraphrase Matthew McConaughey from "The Wolf of Wall Street" -
Apps are a Fugayzi...
"Fugayzi, fugazi. It's a whazy. It's a woozie. It's fairy dust. It doesn't exist. It's never landed. It is no matter. It's not on the elemental chart. It's not f***ing real."
Like using Lego bricks
I had been tracking my habit of doing push-ups everyday using an app. I would then take screenshots of my daily progress, and share them on Twitter.
While sharing my progress publicly on Twitter was fun, I didn't quite like the fact that I had to look for my phone, and open an app. I wanted to get away from my phone for a bit. I wanted to experiment with physical tracking, like pen and paper.
But, I love playing with Legos. So that made me think - what if I could use Lego bricks to track my habits?
Now that sounded a lot more fun. I decided to test it out.
I grabbed some bricks I had laying around, and designed a real life 30 day Lego Pushup Tracker.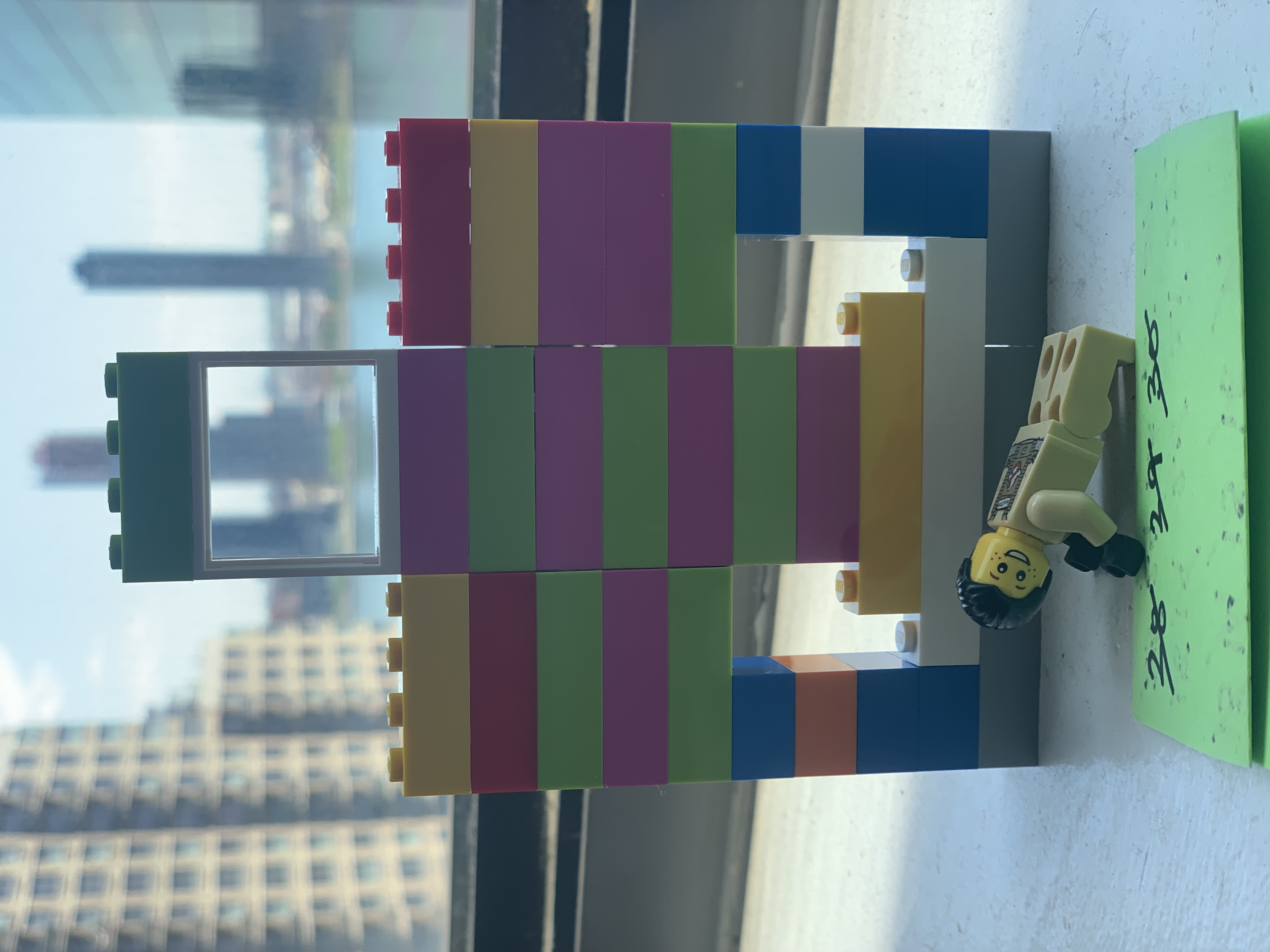 The "Wall of Pushups" Trophy
How it works
I kept it simple. Each day I did at least 10 Pushups, I added a brick to the wall. I then took a picture, and posted it on Twitter as a thread.
To make the habit stick, I took a cue from James Clear's book - Atomic Habits, and used Habit Stacking to connect the act of doing pushups with an already well established routine - like taking a shower. So, the routine was - get out of shower, do at least 10 pushups, add the brick to the Lego wall, take a picture of the Lego wall, and share on Twitter.
Stacking Legos > Swiping right
I did the pushups for thirty days straight. It was awesome.
But more importantly, I loved the fact that over the thirty days, I had something I could touch and feel. It was a trophy for me. I could see it everyday on my desk. I could feel the joy. It wasn't lost inside a digital app, never to be seen again. I could touch and feel it with my bare hands. Something real to show for.
The process was also so much more fun, and satisfying than any app I had ever used. There was joy in grabbing a brick with my bare hands, putting it on top of another brick, and seeing the wall grow.
You can't get that feeling with an app.
What people are saying
The idea of using Lego bricks to track habits and goals resonated with a lot of people.